Partner with


At REFE, we're more than just a team, we're a community of professionals who make the customer experience a top priority. The owners and operators who partner with us enjoy everything from discounted insurance, fuel, and hotels, trailer leasing programs, dedicated lanes, and more. If you pride yourself on our core values and pillars of success – Trust, Relationships, Attitude and Effort, and want to be a part of our billion dollar freight network, contact us today.

Apply Now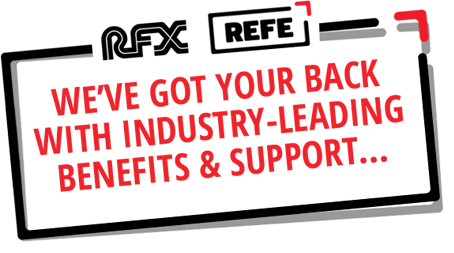 NO forced dispatch

Weekly settlements with free direct deposit

Bobtail, physical damages, and occupational insurance at big discounts

License plate program

Discount offerings for tires and hotels

Trailer leasing programs
Dedicated lanes

24/7 online access to REFE/RFX load boards

Great fuel discounts

100% accessorial pass through

Escrow account options to help hold money aside for unforeseen incidents

Military programs offered


Working with RFX|REFE has made my job easy. I no longer have to worry about the items and costs I do with other companies.
–Steven H.

The team at RFX|REFE has been the best to work with. We get fuel discounts, plus 100% of fuel surcharges are paid straight to my drivers. It provides me one less thing to worry about.
–Susan B.

The license plate and operations program from RFX|REFE are awesome, I highly recommend RFX. They make it happen.
–Maxwell R.